I probably wouldn't think of it myself. 16-liter backpack that costs 100 EUR is not something that would appeal to me. But I had a chance to get something in a design store and backpacks were the only interesting thing in there, so the unisex Rolltop Basic backpack from Braasi was an obvious choice. I remember thinking "well, at least it's pretty." I wasn't familiar with Braasi Industry and I had no clue what to expect.
Rolltop opening is the first thing that you'll notice
Rolltop backpacks are all the rage at the moment. Are they practical? Well, I've grown accustomed to them and I think that, basically, a rolltop opening really is more practical than other types. But you have to be careful – some rolltops have not one, but two clasps (this is the case of Vans Fortnight, for instance, a backpack that I also have and that I'll review in the future). It makes a world of difference whether you can close your backpack with one hand or whether you need two.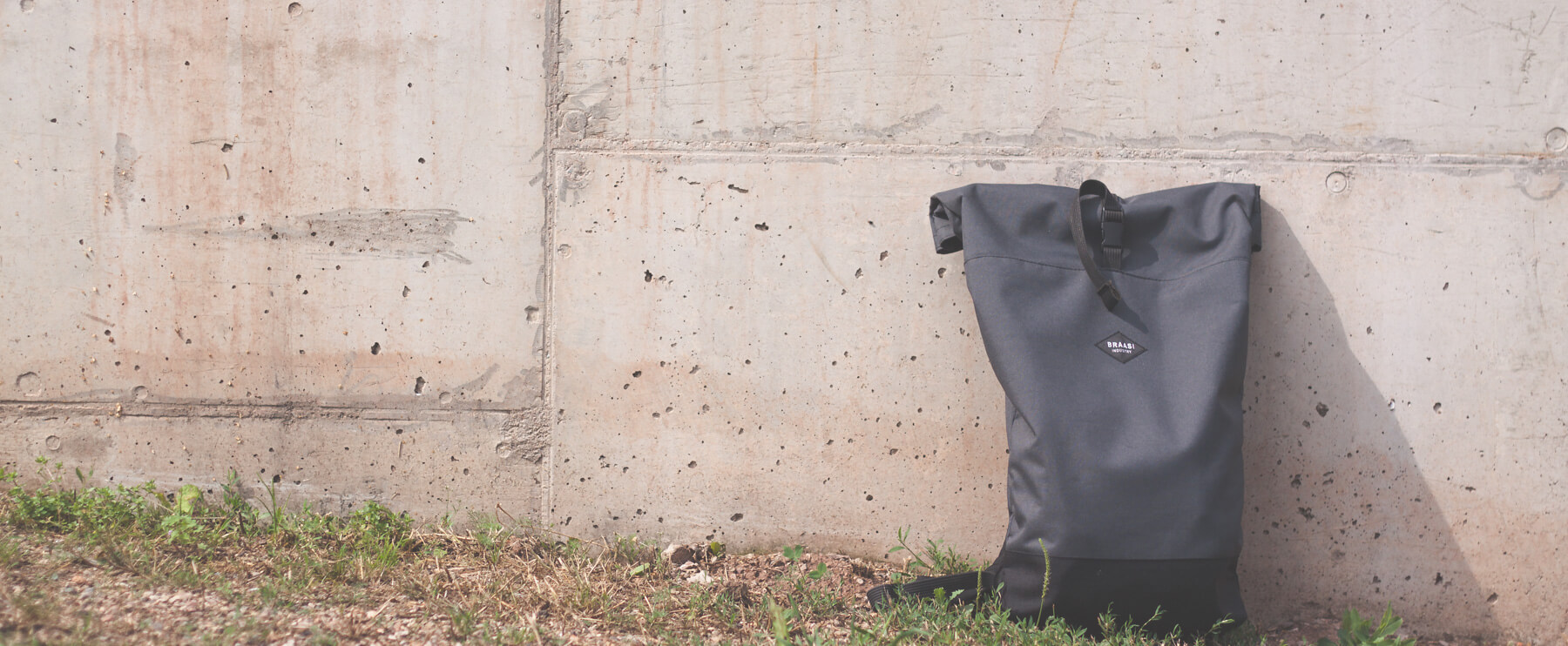 Is this backpack big or small? To be honest, I'm not sure…
Our perception of size is very subjective and to some people, this backpack might seem bigger than it really is. For me, however, 16 liters isn't a huge number and it's barely more than a notebook case. But that's only true if I want it to look good and to be easily organized and searchable.
Why? Because of the inherent ability of rolltop backpacks to enlarge themselves (and this backpack in particular features an extra-long strap that makes this ability godlike). So if push comes to shove and you need to carry a lot of stuff from a grocery store, you can use it. However, if you don't live nearby, take a bag with you instead. When the backpack is packed full, you'll really feel the straps. The backpack isn't designed to cope with heavier loads.
One huge plus are the pockets inside the backpack. There are three pockets on the top and I'm always surprised that the stuff that I put there stays there. It always stays there. Another great feature that I use a lot is the back pocket – you're able to reach your wallet or keys quickly and without any hassle. Personally, I carry the keys on a loop that's on the front of one of the straps. I've talked about this with the people from Braasi and they've told me that it was not designed for this, but I think it works perfectly.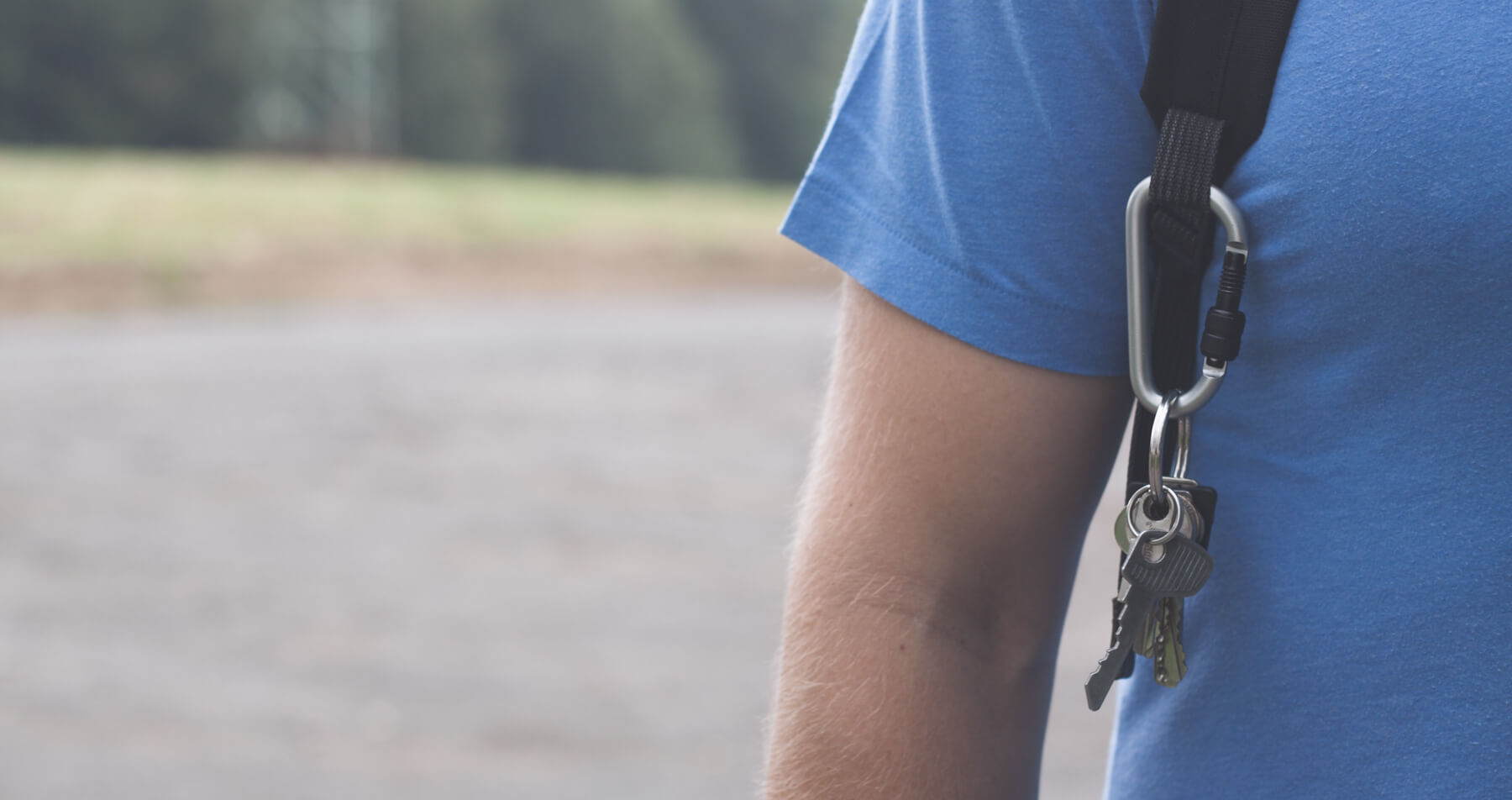 The shape of the backpack: Love & Hate Relationship
When talking about its size, we have to talk about its shape, too. And this is one area when the looks and the practicality don't meet. If you look at this backpack, its bottom is slimmer than its top. That looks great and if you're not especially fat, it copies your silhouette nicely. But if you put in a notebook or any other firm or wide thing (a tablet, a book, a smaller SLR camera…), you'll have a problem. The space on the bottom will be empty – and therefore useless – and the backpack can twist itself into weird shapes. But it's something I can live with.
Czech manufacturer left its mark
Because I didn't have to pay for it, I didn't form any special bond with this backpack. I certainly didn't take any special care of it and I took it with me when I was riding a bike (even in rain) or when I went to a rugby match, and left it wherever I wanted. I've never washed it, but it looks just as good as it did when I got it. This is certainly because of the material – Cordura 1100D, which has a reputation of being a supreme badass.

It might also have to do with the excellent color choice. I've seen a few black versions that looked slightly used. But I don't know for sure.
You'll probably agree that the worst thing that can happen to a backpack is a torn loop. That's not a problem with Braasi – you can pull on it however you want and there's no chance of tearing it (I'll have to ask them about this).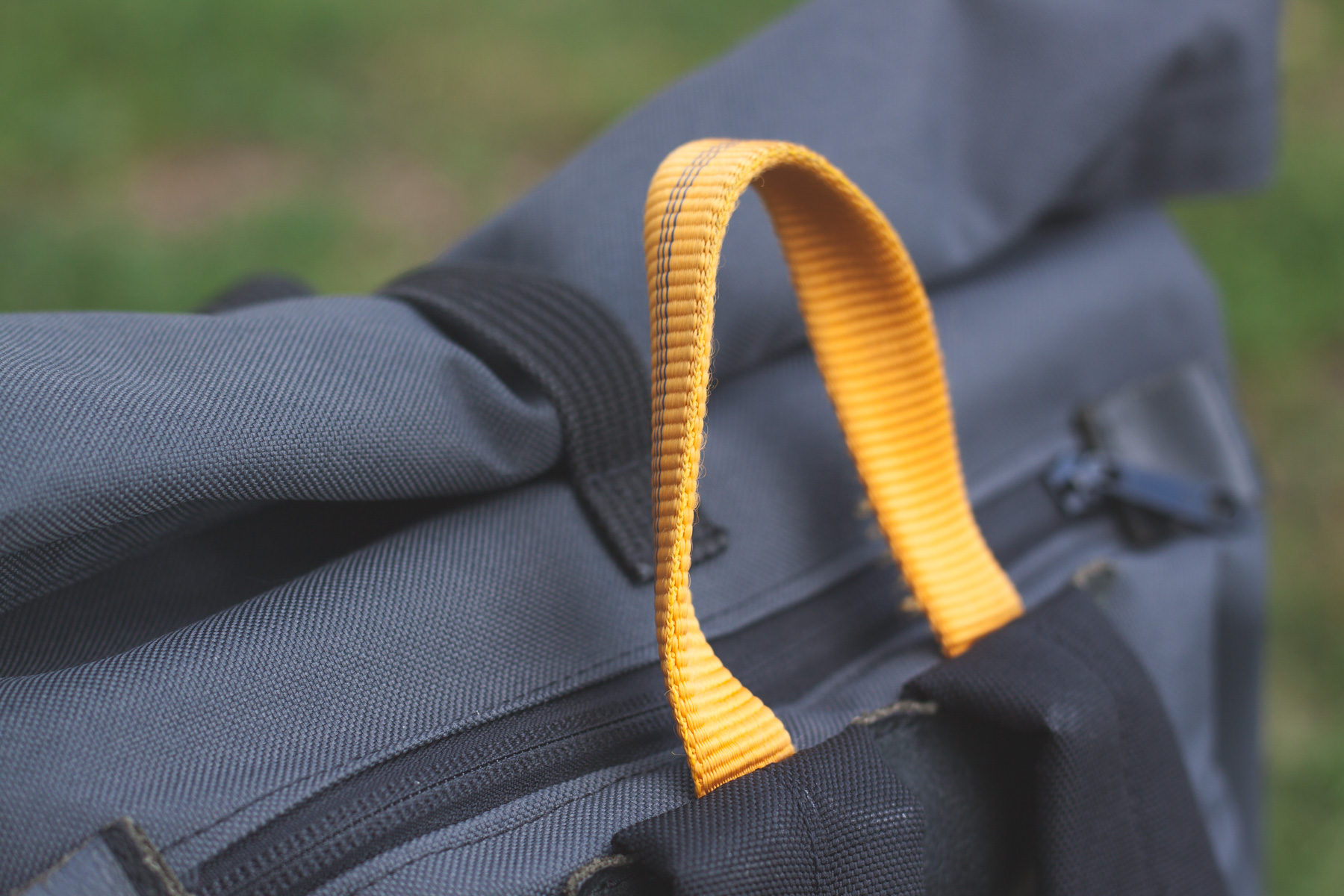 And one more thing – try to guess how soon I realized that it was waterproof. Honestly, I only discovered that last week when I looked at the description in the e-shop. I've never had to think about that before, because the backpack has never gotten wet and somehow, I've never expected it to. A huge plus!
When to buy this backpack
If you want a backpack that can handle rough conditions.
If you don't carry a lot of stuff with you.
If you're happy with a notebook or a tablet, a hoodie, and a small water bottle, this is the backpack for you. You can take it on a one-day trip or a lazy day on the beach. It can handle a bit of sand.
If you're looking for something "basic", but good-looking.
When not to buy this backpack
If you want to carry a notebook and a bigger water bottle. The backpack doesn't offer enough space and these two items will constantly bump into each other. And it can't handle plastic food containers either. If you like Braasi, I would recommend a bigger variety – Braasi Wicker (but you'll have to pay more, it costs around 4,500 CZK).
Verdict
Look -

83%

Materials and Hardware -

90%

Access and Organization -

68%

Value for Money -

70%

Brand factor -

85%
Summary
I don't spend a lot of money on clothes or accessories, but I do like to buy a good-quality thing from time to time. For a backpack that looks good and that is very functional and practical, 2,500 CZK isn't that high a price. For me, this backpack will never be top of the line, but I certainly like having it.
See for yourself